Ute Canopy vs Service Body
Posted on 25 June 2020 by Utemaster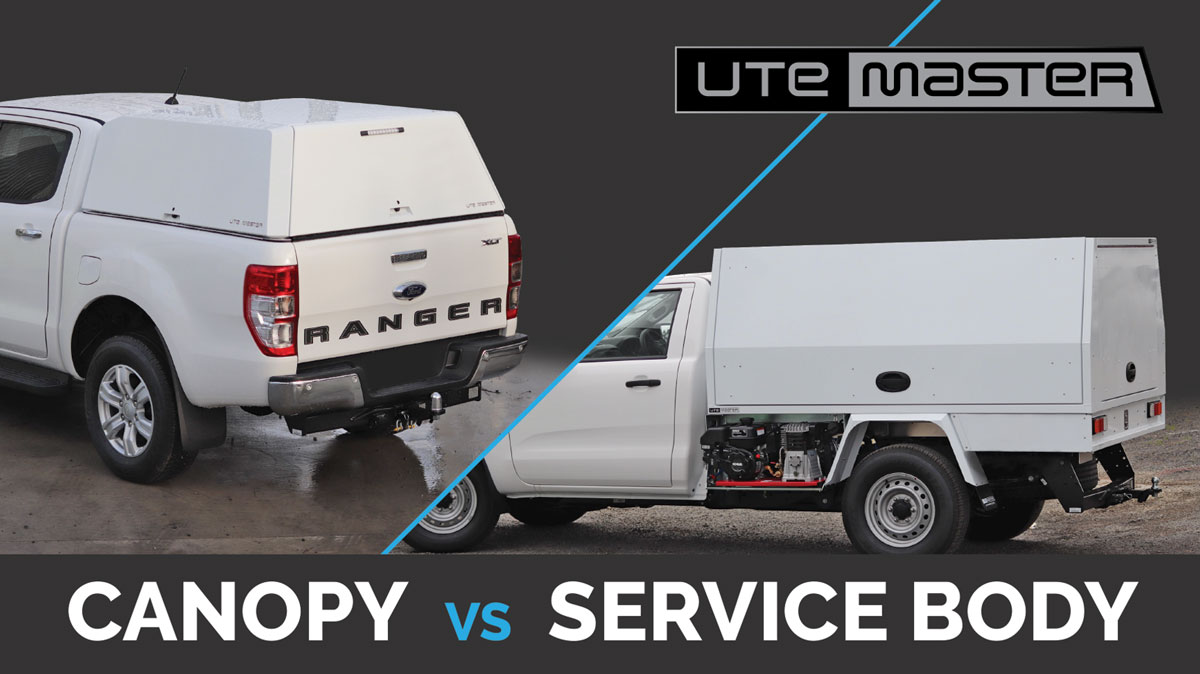 Ute Service Body vs Ute Canopy
Looking to increase productivity on the job site?
Can't decide between a Ute Canopy or Service Body fit-out for your fleet?
There are many different configurations and accessories available so how do you choose the best option for your fleet?
What is a Ute Canopy?
A Ute Canopy is a fully enclosed wellside storage solution that allows you to securely store gear in the back of your ute. It consists of three access points including the two side doors and the rear. Some canopy solutions have greater access than others – this is usually determined by the canopies construction. They can be made with Fibreglass, ABS Plastic or Aluminum. A Ute Canopy is often seen as a versatile solution and can be used for Trade or Recreational purposes.
At Utemaster we produce an Aluminum Canopy which is a modern solution designed to solve issues related to traditional canopies. Check out the Pros & Cons below of a Canopy vs Service Body.
Pros:
Cost-effective solution.

Can be used for Trade & Recreation.

Not permanently mounted to the vehicle.

Matches the vehicle body shape.

No need to remove the factory wellside.
Cons:
Less load capacity than a full-Service Body.

Harder to access inside.

Less customisable.

Smaller roof storage area.

Can't be transferred to a different brand of vehicle.
What is a Ute Service Body?
A Ute Service Body is fitted by removing the wellside of the ute and is mounted directly to the chassis. They are available for Single, Extra & Double Cab Utes and a generally used for commercial application. They are constructed from Aluminum and are very versatile and customisable and can be adapted to suit any working style.
The Utemaster Service Body has been around for over 12 years and is trusted by Commercial Fleets right across New Zealand.
Pro's
Fully customisable and can be suited to any industry.

Through the large full-length side doors, the driver can have instant access to all their gear without straining their back. Sitting at a safe operating height, accessing your gear has never been easier.

Large load capacity, Van-like storage in a Ute.

Large roof storage area ideal for carrying ladders and roof storage racks.

Can be transferred from vehicle to vehicle.
Con's
Higher upfront investment.

Permanent which could restrict weekend use.

Weighs slightly more than a canopy and wellside.
To talk to us about which solution might suit the working style of your commercial fleet, contact our team