How much does a Utemaster Load-Lid cost?
Posted on 14 June 2023 by Utemaster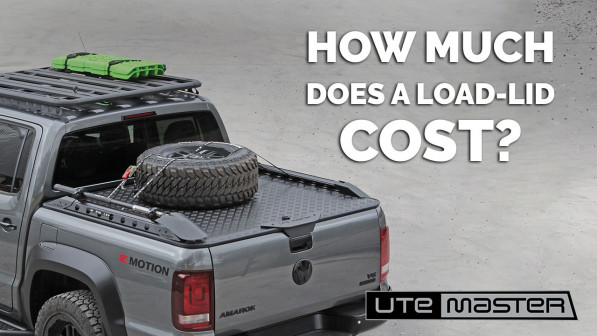 How much does a Utemaster Load-Lid cost?
A lot of people want to know what is a reasonable price to pay for a hard lid.
And we get that. Once you've spent $50-70k already on your ute you need to make sure that doesn't turn into $80-100k!
A lot of people use our interactive Ute Builder and spec up what they want, but then get a fright at the price, yet once we've helped them into exactly what they want they say it's money well spent.
- So lets start by looking at what actually influences cost:
The 2 most common Load-Lid designs are the Standard Load-Lid and the Sports Bar compatible Load-Lid.
Standard Load-Lid
This is a 1-piece rectangular design that entirely covers your wellside, and being 1-piece it is the easiest to manufacture, uses fewer materials and is very easy to install.
Although when compared with a fiberglass, plastic or entry-level Aluminium hard lid, there are some reasons why the cost is different.
The Standard Load-Lid Ranges in price from $2900+GST to $4346 +GST
Sports Bar Load-Lid
This is a 3-piece design that incorporates a separate Sports Bar mounting plate as well as the main shell. The 3 pieces are the Lid Shell, Sports Bar Mounting Plate and the Sports Bar (which comes with your vehicle)
The lid shell opens between the Sports Bars which means the shell is 'T-shaped' to fit around the bars. The shell has approximately 3x the process time compared with a standard Load-Lid.
The Sports Bar mounting plate runs full length to the tailgate to provide superior water resistance (the plate channels rain away from the wellside) and due to the security and weather protection requirements, a lot of process time goes into this vital component.
Overall the Sports Bar Load-Lid costs significantly more to manufacture than the standard lid due to the additional materials used and longer process time. Therefore the #1 factor that drives the cost up between the Utemaster options is the decision to keep or remove your sports bars.
The Sports Bar Load-Lid Ranges in price from $4094+GST to $5400+GST
Other than drive cost down, choosing a Standard Load-lid will give you far greater versatility and loading space on top of your lid, as well as better access to the wellside
However, if you choose to keep your sports bar you get the benefit of keeping the "Sports bar" look. And to allow you to do that, Utemaster have put the effort into ensuring a weatherproof and secure design that you can still load on top with.
Accessories
Accessorizing also play a huge part in determining the overall cost of your Load-lid. We find there are 2 common approaches to accessorizing your Load-Lid at time of purchase. These are:
Fully set up for use from day one

Basic Set-Up with Minimal Accessories
Fully set up for use from day one
If you're intending on using your Ute to its maximum potential then you don't want to be caught out not having the right setup.
For Work: Have a good think about what you will be using the Ute for. If you're a builder then you need to be able to secure loads down safely on top of the lid. A set of Side Rails and Central Locking would be the bare minimum! If its your every day work horse then that little bit of extra investment upfront can save a nightmare unfolding i.e. if you carry a dog to the job site and she gets completely wet, you'll need to carry her home in the wellside– but that's only doable if you spec'd a Lid Spacer Kit to allow ventilation in the wellside!
For Play: When out 4WDíng or camping being inadequately prepared can be a total nightmare. This is where the extra investment upfront on a set of side rails and Cross Bars could mean the difference between being able to Install a Roof Top Tent and sleep off the ground vs spending hours each day setting up camp on the ground. If having time off with friends and family is important to you then don't let your gear hold you back.
Needless to say, the more accessories you add to the build, the more it will cost.
Basic Set Up with Minimal Accessories
On the flip side, if you are only looking for a secure cover and your Ute is simply your daily driver that rarely gets taken offroad or to a job site then you are better off to invest in few accessories up front and just 'see how it goes'. If you find that you're doing more DIY projects on the weekend and want to add side rails then it's always something you can upgrade to later on. This is a great way to keep the overall cost down and only spend on what you truly need right now.
Think of a Utemaster Load-Lid™ as a swiss army knife that you can add to as you go!
Why are some ute lids more expensive than others?
In the ute accessories industry as you would have noticed there are great variations in what things cost, and a lot of people we talk to want to know why some companies are so much more expensive than others. The simple reason is this – some companies make a product to match a price, and other make a product to match a spec, and there's a huge difference! Let me walk you through it:
Price-based Product Design
Some companies start the product design process with a price, and everything works backwards from there. Although this process works great to keep the cost low, it means spec is constantly removed along the process. As a Ute owner, there are some major issues with this process you should be aware of:
Corner cutting. To reduce cost, corners are constantly cut the whole way along the process and although at the time of purchase you can't tell, a few years (or months!) down the track these types of cost-cutting issues will rear their ugly head:

Thinner materials used on panels, structural components and hardware

Lower-grade materials with low fatigue resistance such as 1000 series aluminium

Non UV stabilized surface paint or powder-coating

Non UV stabilized rubbers and plastic

Lower Spec. Every extra element of spec will add to the overall cost, so in an attempt to lower the cost some companies will remove spec until you're left with the bare-bones requirement spec level. Some examples of removed spec are:

Lack of sufficient bracing

No internal protection of locking mechanisms

The product does not come fully assembled (this reduces the 'purchase' price but means you, or your dealer spend hours assembling it)

Convenience features such as being easy to remove are ignored

Ergonomics, Fit and finish are overlooked

The product does what it says on the box, and nothing more

Lower load-ratings

The product is made using the manufacturers standard parts, as opposed to model-specific components which means it doesn't fit an individual vehicle properly
Examples of this are using straight extrusions and generic 90-degree corner caps to finish the edge of an entry-level aluminium hard lid. The result is a straight-sided hard lid on a curved edge vehicle body. Or a sweeping compound curve on the vehicle body corner mismatched with a generic 90 degree cast corner cap.
Labour and Manufacturing. To reduce costs, a price based manufacturer would normally import their product from Asian countries where labour is cheap. This can lead to more corners being cut with quality than originally intended as they lose the ability to control what quality measures there were in place.

Aesthetics/ Style. If it costs more to make it look good, then this is often one of the first corners to cut in reducing cost. This looks like:

Mouldings that are generic and don't suit a vehicle exactly

The overall product doesn't match the vehicle body and shape

Poor surface finish

Unfinished edges/ overall look

Dated and unusual components i.e. pop-up handles and random fasteners
Spec-based Product Design
To design a market-leading product, some companies (like Utemaster) take the spec-based design philosophy. This means that we design a product to suit the needs of real-life ute owners in real situations and seek to understand these requirements first before making the product. Although this always ends up costing more than a price product, there are major advantages to this approach:
This is first and foremost in every decision – how long does this product need to last, who will be using it, what will they be loading on it? Generally, to achieve higher quality these are the attributes you will see:

Solid Structure, inside and out

Quality materials of a suitable gauge and grade such as 5052 Aluminium

UV stabilized surface paint or powder coating

UV stabilized rubbers and plastic

Desired Spec. Every extra element of spec will add to the user experience and lifetime satisfaction of the product. This generally looks like:

Rigid and adequate bracing

Protection for locking mechanisms and wiring routing

Places to mount your own accessories

Full assembled and ready for fitting out of the box

Can be easily removed and re-fitted

Ergonomic to use

Everything fits, and works like it should

Additional features built in that aren't a minimum requirement such as t-tracks

High load-ratings

Every product is model specific, with a model-specific design, compatibility and fitting instructions

Labour and Manufacturing. These products are generally manufactured in Australia, New Zealand, South Africa or USA.

Aesthetics/ Style. These products add value to your Utes appearance with features like:

The product fits each specific vehicle exactly

Thought and attention has gone into how it ties in with the design language of the Ute

For example, if your vehicle is a Ranger, then the product has been designed to suit your vehicle. Not just a generic design to suit all vehicle models.

Professional and desirable surface finishes

Overall quality look and feel

Modern components, hardware and overall design

Vehicle curves are adapted to, even though it is a sheet metal product.
Wow, that's intriguing! Where else does this happen in the Automotive industry?
Everywhere actually… lets explore why someone would buy a Ford Ranger instead of an LDV T60 (or vice versa)
As at December 2021 the top of the range LDV T60 costs $38,000 - $40,000 RRP. By comparison a Ranger XLT is $65,000 - $68,000. Yet while the Ranger costs over $25,000 more, and has very similar features/ tech on paper, there are significant advantages to a Ranger that Australians demand from a Ute.
Subsequently, the Ranger outsells the T60 by a significant margin because it has been built to meet a spec that Ute owners require, not a price point.
Find out more: