Bike Carriers – Things you need to know
Posted on 14 June 2023 by Utemaster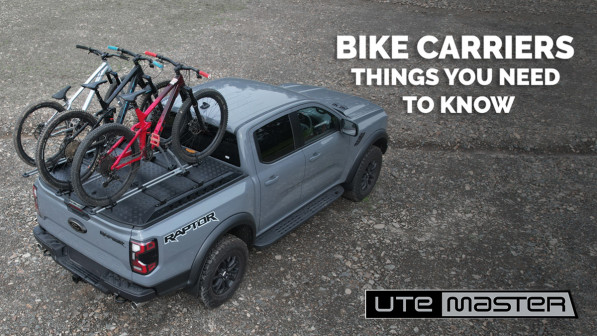 If your heading away for a weekend of biking with family or friends, having sufficient load space in your vehicle can be a challenge.
Below we will take a look at some of the best ways to transport bikes on your ute.
Option #1 Roof Racks with Bike Carriers
Most Roof Racks can take a bike carrier to hold your bike on the roof. Although Roof Racks are useful, they are very hard to load - especially if you are vertically challenged or if you are getting on in your years. E-Bikes are out of the question because of their weight and utes aren't exactly getting shorter!
Pros: Do not take up space in the wellside area.
Cons: Hard to load, adds wind noise, adds to the height of the vehicle (no post-ride maccas drive-thru!), normally limited at a 70kg capacity.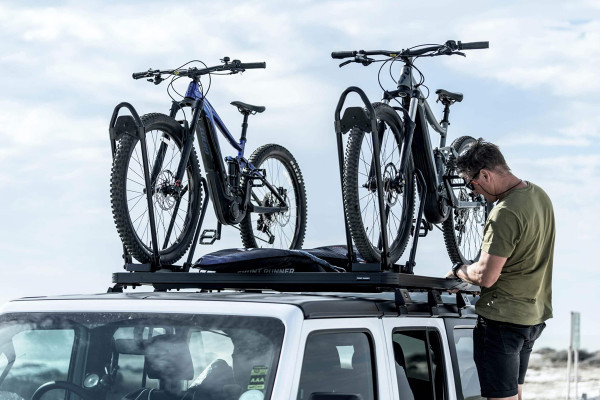 Option #2 Tow Ball Bike Carrier
These are very cost-effective and easy to load but takes a long time to get everything strapped on properly. If you like to do it cheap this is a good option, but you're almost guaranteed to scratch your frame in the process.
Pros: Low cost, easy loading height and can be used on any vehicle with a towbar.
Cons: Easy to scratch the bikes and vehicle while loading and from movement while driving, adds length to the vehicle making parking/ reversing difficult.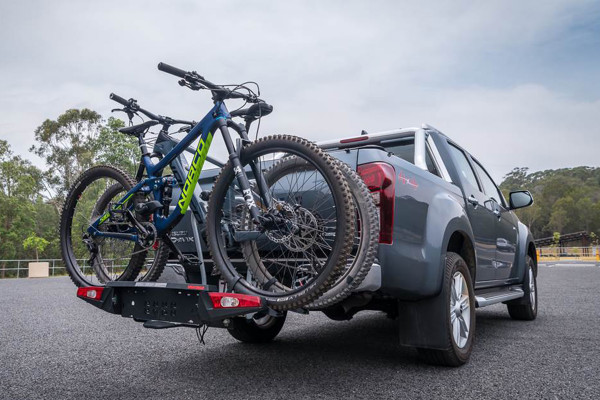 Option #3 Tailgate Blankets
A cost-effective easy option but limit your Ute's ability to carry anything else. I.e. your wellside is no longer secure or weathertight.
Pros: Low cost, quick to load and can be used on any Ute brand.
Cons: Not secure, use up your wellside load capacity, easy to scratch the vehicle and the bikes.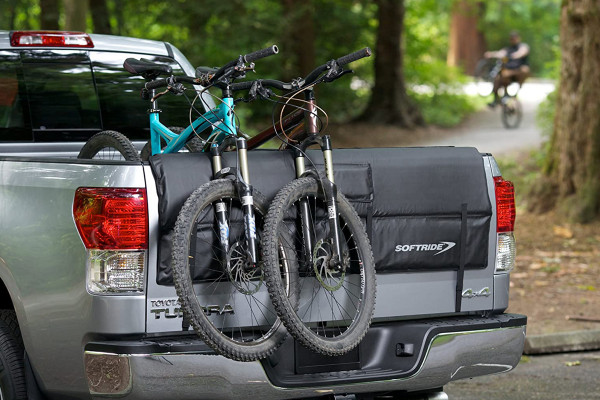 Option #4 Load-Lid with Bike Carriers
Adding Bike Carriers to your Utemster Load-Lid is hands down the best option. You can easily load them onto your vehicle, they are secure, do not limit your load-carrying capacity and much more!
Pros: Unobstructed load capacity in the wellside, bikes do not stick too far out of the vehicle lines, can carry up to 4x bikes with a 200kg load rating, locking options are available to keep the bikes secure, easy and fast to load and unload - even when covered in mud!
Cons: The Load-Lid can be heavy to open with bikes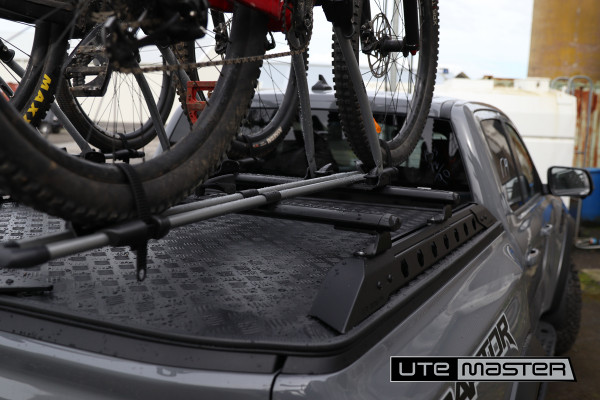 How does the Load-Lid compare to other wellside covers?
Other wellside covers such as Roller Shutters lack strength, meaning you may only be to carry a couple of bikes without exceeding the load rating. If you are taking friends or family with you, transporting all your gear could be difficult!
Setup your Load-Lid for bikes:
When it comes to setting up your Load-Lid for bike transportation, there are two main options to choose from - the Frame Mount Carrier or the Fork Mount Bike Carrier.
Frame Mount Bike Carriers:
The Frame Mount Bike Carrier system requires two cross bars to support it. These can either be mounted to Cast Side Rails, Destroyer Side Rails or T-Track system.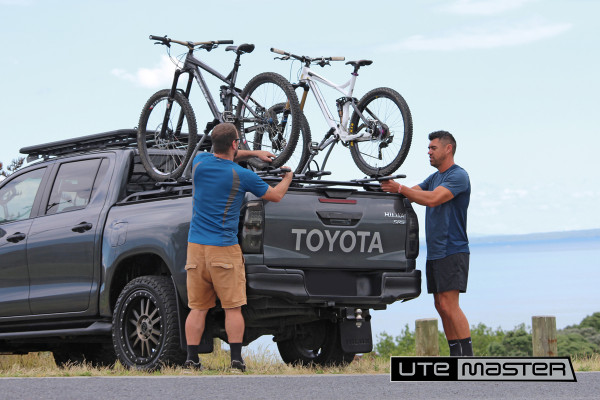 The greatest feature of the Frame Mount Bike Carriers is that you do not need to remove the front wheel. This means you don't have to store the wheel separately in the wellside, saving you space to carry more gear.
The carrier itself cradles your wheels and clamps onto the frame of your bike to keep it secure.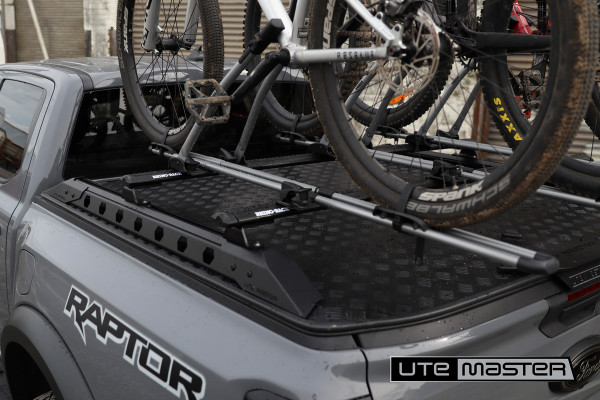 Once you are done using this the bike carriers, crossbars, or both can be removed and turn your Load-Lid back into a workhorse for your 9-5.
Photo of it being removed take from old load-lid video
Fork Mount Bike Carriers:
The Fork Mount is mounted directly onto the Load-Lid without the need for any extra crossbars or accessories.
To secure your bike you will just have to simply remove the front wheel and clamp the bike's quick-release system into the fork mount. We do also recommend securing the rear wheel with the tie-down points such as the side rails or lashing rings.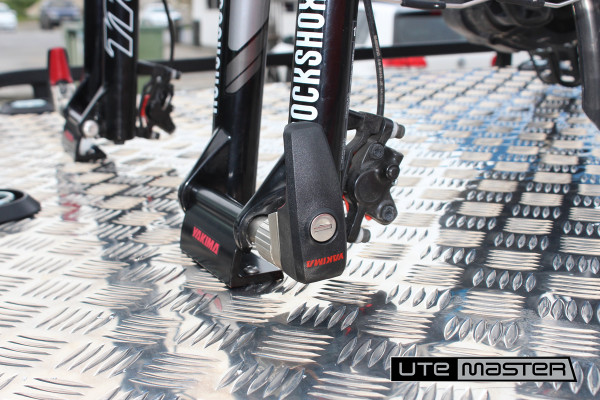 Where can I buy the Bike Carriers?
You can buy any of the bike carriers shown above from your local bike store. The crossbars shown on the Load-Lid are a standard aero bar and will be compatible with most bike carriers.
Transporting E-Bikes:
Removing the battery from your bike can reduce the weight by around 5-9kgs. This will not only make it easier to load onto the vehicle, it gives you more freedom to choose from a range of bike carriers that typically only support a bike weight of 20-23kg.
Some things to consider:
The Load-Lid™ comes standard with gas struts that are designed for opening the lid with no load on top, the standard gas struts will not support the additional weight of the bike carriers and bikes. Check out this article which has some helpful information on how to access the wellside while the Load-Lid is closed.
Summary:
Setting up your Ute with a Load-Lid gives you the ability to load the bikes on top, without compromising on storage space underneath.
This means you don't have to leave anything behind on your next adventure!
Find out more: