Utemaster Warranty – FAQs
Posted on 14 June 2023 by Utemaster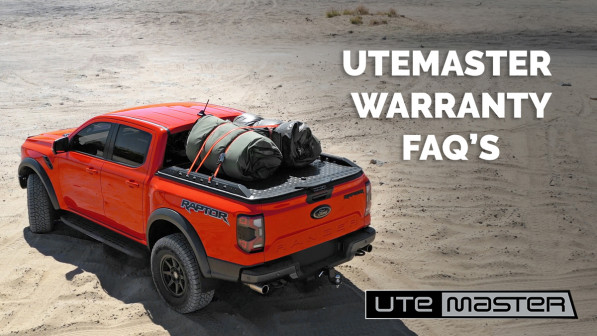 If you're buying a product that is worth thousands of dollars, you want to have confidence in the company you are purchasing from.
Over the years Utemaster has supplied over 40,000 products to ute owners across Australia and New Zealand.
We are so confident in our quality that all our products come with a comprehensive 3-year warranty. More information about what's covered in the warranty can be found here.
Frequently Asked Questions
1) How does retrofitting non-genuine Utemaster accessories affect my warranty?
We often receive enquiries about whether retrofitting aftermarket accessories to a Utemaster Centurion Canopy or Load-Lid will impact the warranty.
If you were to fit a set of aftermarket roof racks to your Centurion Canopy it does not void the warranty of the whole product. However, it does void the warranty for issues caused by the aftermarket roof racks.
For example, if you were to fit aftermarket roof racks, the warranty would not cover leaking through the roof rack fixtures. However, the warranty will still cover other components that are not affected by the aftermarket roof rack provided they meet the warranty terms outlined here.
2) Where can I take my Utemaster product if I need repairs or want to add more accessories?
We have taken the guesswork out of repair and installation using comprehensive instructions and 'how-to' videos. This means fitting/ repairs can be done by any workshop. Our dedicated support team will work with you to find a solution! If you have any queries or issues with your product, please contact us directly; we can help you get it sorted.
3) Does the Next-Gen Ford Ranger Require a J-Brace?
It is a requirement from Ford that any 2022+ Next-Gen Ford Ranger fitted with accessories extending above the wellside, and weighing in excess of 45kg must have wellside reinforcement brackets installed. The J-Brace kits are available to order from Ford and need to be installed for the warranty on the vehicle to be valid. Read more about the J-Brace here.
How do I register my warranty?
When you purchase a Utemaster product it is important that you register your warranty so that if anything comes up in the future we can easily help you with your claim. To register your warranty, click the button below and fill out the form.
How do I make a claim or raise an issue with the product?
If at any stage you are having issues with your product, feel free to get in touch with our friendly after-sales support team who will be able to help you resolve your issues.