Load-Lid + Roof Top Tent Adventure
Posted on 14 December 2019 by Utemaster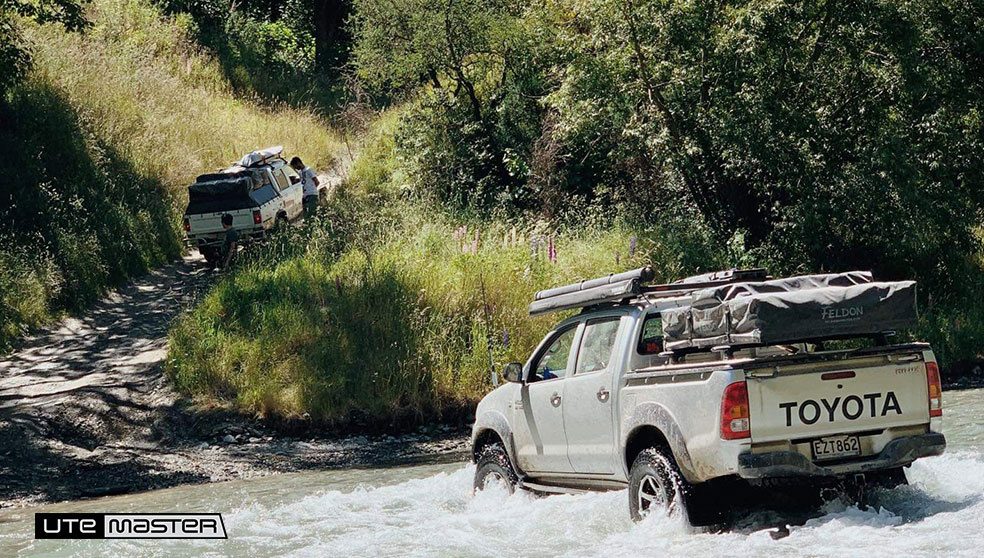 Mounting a Roof Top Tent to a Ute or 4WD
Camping and overlanding using the sublime combination of 4WD's and rooftop tents is gaining popularity worldwide.
Utemaster is actively working with Rooftop tent manufacturers such as Feldon Shelter to make it as easy as possible for you to join the Rooftop tent adventure with your ute or 4WD.
Because the Load-Lid can handle a 300KG stationary load capacity it makes the perfect platform to mount your rooftop tent to through the use our of purpose designed roof rack mounting systems. Because of this high strength rating, the Utemaster Load-Lid can provide a 4WD Ute hard lid solution that can't be reliably achieved by traditional Ute hard lids or Ute Roller Covers.
Why mount your roof top tent to a Utemaster Load-Lid?
Having gear on top of the vehicle roof can increase drag and negatively influence fuel economy. The wellside area sits within a streamlined part of the vehicle and has less effect on the drag of the vehicle, mounting the rooftop tent to this area will still keep you up off the ground, but won't slow you down.
Roof top tents are heavy and often have a dead weight of between 40 – 80 KG, often the only way to get them onto the top of the Ute or 4WD is to use a forklift.
Mounting to the Ute tub area means it is a comfortable lift for 1-2 people and set up is that much easier because you can walk around the Ute to set it up instead of climbing onto the roof.
All that is needed is our Load lid cross bar mounts and you will be set to go, you can fit crossbars to Utemaster side rails or directly to the lid itself.
Getting the most out of your ute this summer?
Check out these photos sent in by Nicholas Gillingwater & Sarah Taylor!
They took their ute on a camping expedition across the South Island and explored some of our countries greatest escapes!
The trip featured multiple river crossings & 4WD tracks so the rooftop tent + hard lid combo meant they could easily pack up their gear and get to all these great locations: