Can I put a fridge under my Load-Lid?
Posted on 14 June 2023 by Utemaster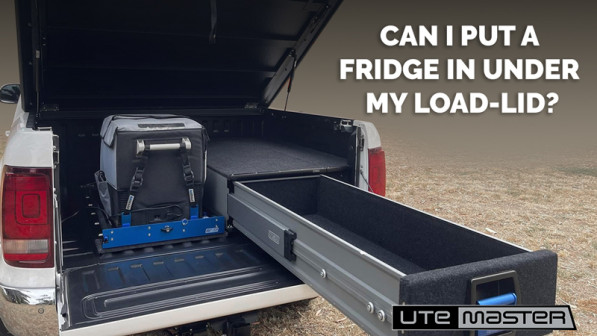 If you're heading out for on an adventure keeping your food and drink cool in a vehicle can be challenging. A powered fridge connected to the vehicles battery allows you to do this without the need for ice.
The wellside area is the perfect place to mount the fridge which is why are often asked: "Can I put a fridge under Load-Lid?".
We have created an article that contains popular ute brand wellside heights so you can work out if the fridge you are interested in will fit under your Load-Lid.
This is how it works:
The Utemaster Load-Lid sits on top of the wellside, so calculating whether your fridge will fit in your wellside is easy. Note: There are no intrusions into the wellside area below the top of the wellside except for the locking mechanism cover which sits into the wellside area approx 30-50mm. This is only at the handle end, and means that if you have a taller fridge you will need to open the Load-lid to slide the fride out.
Here's a simple sum to help you figure it out:
Wellside Height - Fridge Height = Space between the fridge and the Load-Lid.
We recommend allowing around 50mm space between the fridge and the Load-Lid so that it fits comfortably in your ute's wellside. It's important to take into considering the height of a fridge slide if you are adding this underneath.
Estimated wellside heights / dimensions:
To make things easier we've gone ahead and measured the heights of some common ute wellsides and listed them below.
It's important to keep in mind that the wellside heights listed are approximate measurements and different types of liners can influence the available height.
Ford Ranger: 490mm
Toyota Hilux: 480mm
Mazda BT-50: 510mm
Mitsubishi Triton: 460mm
Isuzu D-Max: 490mm
Volkswagen Amarok: 530mm
Nissan Navara: 520mm
Popular portable fridges in Australia:
-Dometic CFF 70DZ Fridge/Freezer Dual Zone: Height: 500mm, Liters: 70L
-myCOOLMAN, The All-Rounder: Height: 488mm, Liters: 60L
-Engel MT-V60F: Height: 441mm, Liters: 60L
-Stayzcool: Height 461mm, Liters: 60L
-Companion Rechargeable Lithium Single Zone 60L: Height 460mm, Liters: 60L
Popular fridge slides in Australia:
Below we have listed a few popular fridge slides. It's important to check the compatibility of your slide with your fridge before purchasing.
-Engel fridge slide to suit 60L and 80L
Fitted examples:
This set up includes a MSA SL40 straight slide, with a Dometic CFF 70DZ Fridge/Freezer Dual Zone, in a Volkswagen Amarok. As seen in the pictures this fridge slider combo works perfectly for this model of Ute.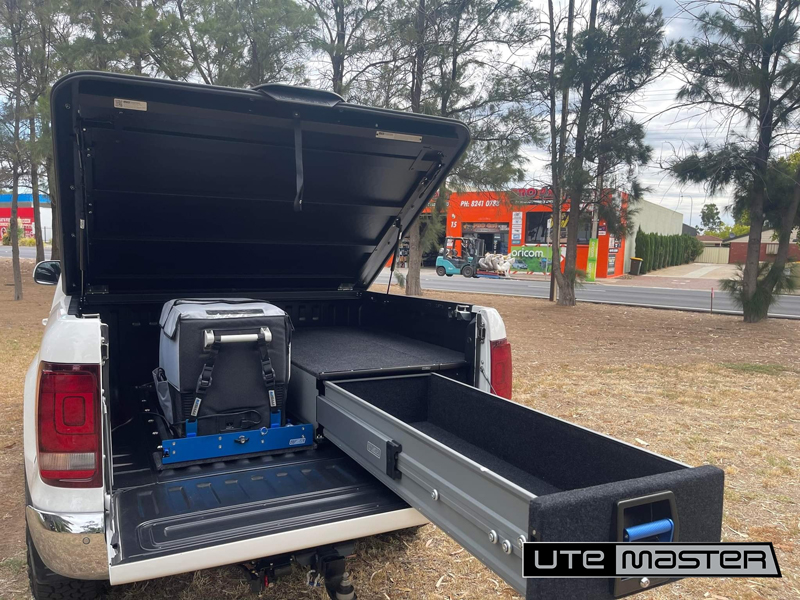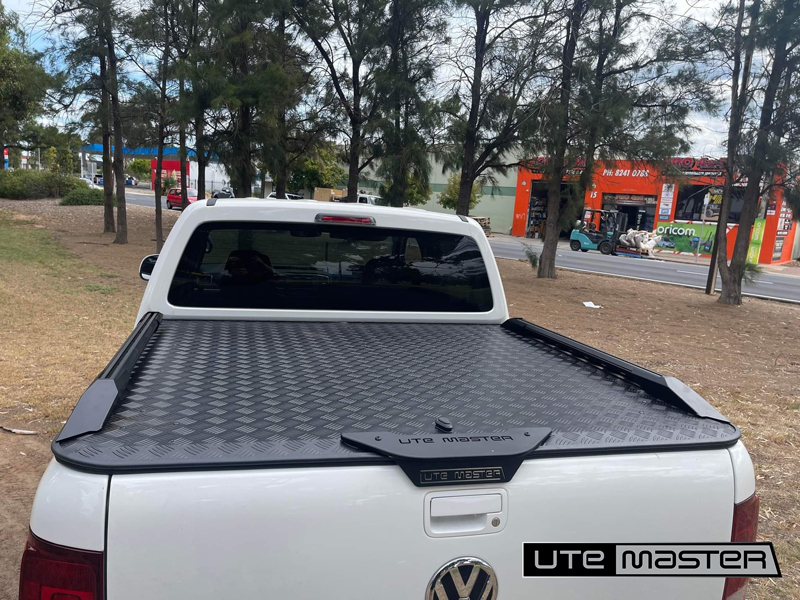 With a portable fridge, it's important to consider a wellside cover that is going to provide you with security and water resistance to protect the electronics. The Utemaster Load-lid is ideal for this because it has a full perimeter seal and water management system. It also sits on top of the wellside so you can get the biggest fridge for the space you have available.
To find out more about the Utemaster Load-Lid, head to the link below: