Can I open my tailgate while the Load-Lid is down?
Posted on 14 June 2023 by Utemaster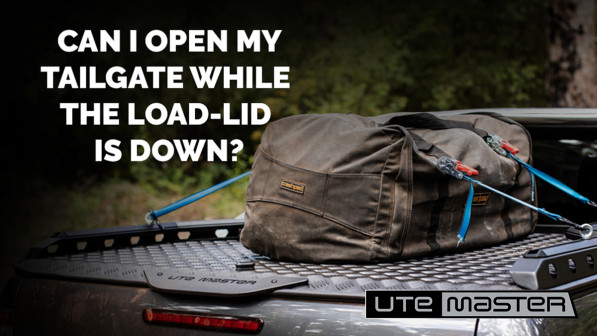 Some modern utes do not come standard with a central locking tailgate.
This means that unless your wellside-mounted canopy or hard lid has a tailgate locking system, someone could easily open your tailgate even though the canopy or hard lid is locked. This could result in expensive gear being stolen out the back of your ute.
For this reason, the Load-Lid has a unique locking plate underneath the lid handle which ensures your wellside is secure even if your tailgate does not have central locking.
If you already have a central locking tailgate it is possible to remove the locking plate which will give you access to the wellside while the Load-Lid is closed.
How to remove the locking plate:
Step 1) Begin by removing the bolts located on the top of the lid, using an allen key. To prevent the nutserts from spinning underneath the lid, use some vice grips to hold them in place.
Step 2) Next, remove the handle to expose the locking plate.
Step 3) The locking plate is held in place with industrial bonding glue, so it will require some force to release it from the lid shell.
Step 4) After you've made your necessary adjustments or repairs, it's time to re-install the Utemaster handle. Start by running a solid bead of sealer around the holes.
Step 5) Finally, re-install the handle and screw back in the bolts with an allen key to ensure its tight.
If you do not have central locking in your tailgate
Tailgate Central locking kits range in price from $150-$250. Most of them will use the existing mounts so do not require any further drilling to install. Though we do not supply these, they can be purchased online, through a dealer, or from your local 4x4 store as an aftermarket accessory.
Summary
Although the locking plate is put there as an extra layer of security, it can be removed should you need to access to the wellside when the lid is closed.
More information on the Utemaster Load-Lid can be found here:
Find out more: