What's the best way to cover your wellside?
Posted on 14 June 2023 by Utemaster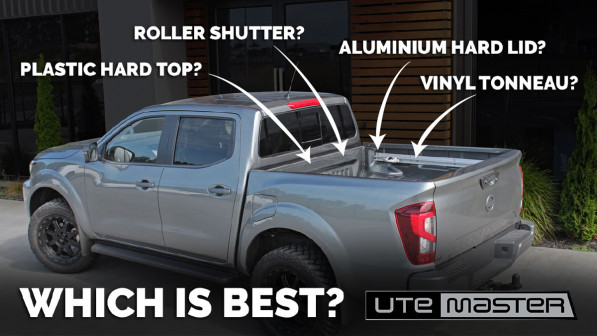 With so many different ways to cover your wellside on the market, it can be hard to settle for the best option for you – that is why we've compiled this completely unbiased review of the 5 main types of wellside covers:
Roller Shutter

Plastic Lid

Fiberglass Lid

Vinyl Tonneau Cover

Aluminium Hard Lid
Obviously, every single manufacturer will tell you that their product is the best! But what really matters is what is best for your application
There's so much to consider so lets dive right in and discuss the pros and cons of each
Roller Shutter/ Roller Cover
A roller cover is a retractable cover that is made up of a series of slats interlocked/ joined together which means that the cover rolls up at the cab end of your wellside, giving you access to the whole wellside. These are a popular option and many vehicle manufacturers install these as a standard accessory from the factory.
Pros:
+ They are usually full retractable which means when it is rolled away, you have full access to the wellside of your vehicle.
+ Oversized objects such as a Motorbike or a fridge can easily be transported standing upright with the roller cover retracted.
+ Very low profile and minimalist design
+ Give you great flexibility for day to day
+ Because they aren't load-bearing they're relatively cost-effective
Cons:
- Complex structure/ slat systems make installation a very time-consuming process
- Prone to jamming open, jamming shut or halfway in between due to dust getting into the mechanism and tracks
- Prone to leaking due to the complexity of the tracks/ channels
- Cannot be removed and re-fitted easily
- Difficult to install, and needs to be done perfectly or it will jam
- Some models are easy to break into
- The rolled-up cover canister uses up approximately 10-20% of your wellside depending on the model)
Price Range:
Roller covers vary in price depending on quality, if they are manual or electric and where they are made. The typical price range for a roller cover is $1900-$3800
Applications:
The Roller Cover is best suited to light recreation and work usage due to it's convenience and flexibility.
Plastic Lid/ ABS Lid
A plastic lid is a hard lid that hinges at the cab end, made from Plastic/ ABS and is typically vacuum formed in a mould. Their smooth exterior finish is then painted in gloss automotive paint to match your vehicle's colour.
Pros:
+ Smooth and refined Exterior finish that matches your vehicles panels
+ Can be moulded in almost any shape, so spoilers and distinct body lines are sometimes used
+ Provide better security than a roller cover
+ Provide better water protection than a roller cover
+ Minimal moving parts
+ Low-cost way of securing your wellside
Cons:
- A smooth painted surface can be easily damaged through everyday use
- Low load capacity on top
- Your storage area is restricted to what can fit under the lid and seen as 'impractical' by many Tradies
- Not durable in workhorse scenarios
- Expand and contract in the heat
- Cannot be repaired if broken
Price Range:
Plastic hard lids are generally only available in a 1-piece and 3-piece version, with no available accessories to influence the price. Pricing is typically within the range of $1500-$2800
Applications:
A Plastic Hard Lid is best suited to a Ute that is used as a daily driver – going to the shops, a company vehicle for office staff and taking the kids to the footy on the weekend.
Fibreglass Lid
A Fiberglass lid and a Plastic lid look and function almost exactly the same, the main difference being the material properties.
Pros:
+ Can be repaired if broken
+ Stronger and more rigid than plastic
Cons:
- Heavier than plastic
- Nearly impossible to recycle
- Contains many toxic chemicals
Price Range:
Similar to Plastic
Applications:
Similar to Plastic
Vinyl Tonneau Cover
Vinyl Tonneau Covers are called many different names but are essentially a sheet of vinyl secured to the wellside by elastic straps or aluminium extrusion clips. They're very popular in rural farming applications due to their low cost and flexibility.
Pros:
+ Very Cheap
+ Ultimate flexibility – within seconds yours back to a bare wellside
Cons:
- Zero Security, impossible to keep anything safe since Vinyl can easily be cut so there is no need for locks.
- Poor water resistance
- Can easily be damaged
- Require permanent fixings to the wellside – often on the exterior
- Can flap while driving
Price Range:
Vinyl Tonneau covers are very simple in construction and cost very little to produce. Perhaps the biggest driver of cost could be the labour in installation. Generally, you should expect to pay $500-$1200.
Applications:
Given that they have zero security, a tonneau cover is best suited to rural areas where the benefit of the flexibility can be realised. If you take one into the city, expect whatever is in the back to be stolen, which renders the ute useless at being a ute.
Aluminium Hard Lid
An Aluminium lid is a Hard Lid made from Aluminium sheet instead of Plastic or Fiberglass, and is becoming increasingly popular due its ability to carry a load on top of the lid as well as underneath.
Pros:
+ Doubles the storage capacity of your wellside since you can load on top of the lid as well as underneath
+ Oversized objects such as a fridge can easily be transported on top of the lid (depending on load ratings), making it very flexible day to day
+ Some models have great water resistance (depending on the brand)
+ Very durable and robust - great for tradies and being used as a workhorse
+ Easily accommodate rooftop tents and other recreational accessories (depending on the brand)
+ Superior Security due to the robustness of aluminium
+ Adds a tough look to your ute
+ Aluminium is the most recyclable metal
Cons:
- The most expensive type of Hard Lid (depending on the brand) and is therefore not well suited to a bargain hunter
- Cannot drive with it open i.e. unable to transport a motorbike standing upright
- The front of the wellside has restricted access compared with a roller cover
- They are only available in 2 colour finishes (Raw or Black)
Price Range:
Aluminium Lids vary a lot from one to another which is mostly driven by spec and quality. From a basic aluminium cover to a highly spec'd setup Aluminium Hard Lids typically cost between $1500-$5900
Applications:
Due to the durability and customization potential, an Aluminium Hard Lid is best suited to heavy Trade or Recreational use where the value of the product is put to use. If your ute is never at the centre of the action then an Aluminium lid may not be a good option for you
With that in mind, if you're interested, you can check out our Aluminium Hard Lid, called the Utemaster Load-Lid
You can also get an easy online quote for a hard lid using our online configurator.