How to carry a bike on a ute
Posted on 22 July 2020 by Utemaster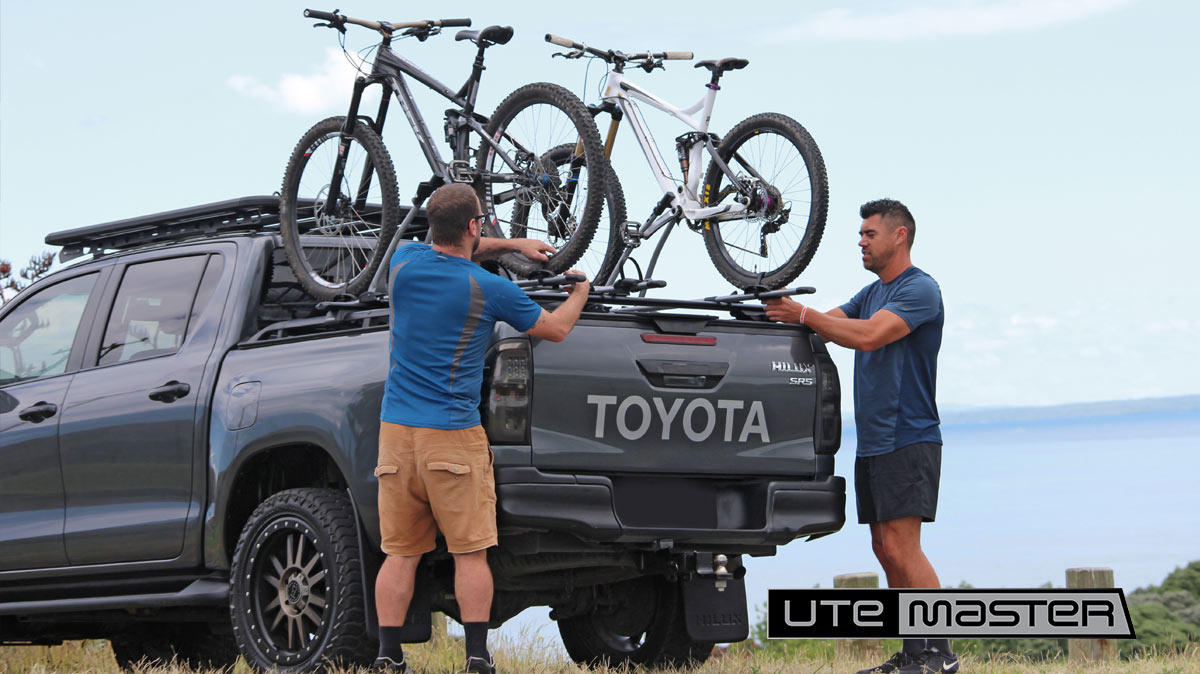 How to Carry a Bike on a Ute?
Hitting the trails is good fun but there's always the worry about how to transport your bike safely without scratching the frame, damaging the Ute or injuring yourself. Or worse still - if not done properly, the bike could come flying off while travelling.
Roof Racks Bike Carrier
Most Roof Racks can take a bike carrier to hold your bike on the roof. Although Roof Racks are useful, they are very hard to load - especially if you are vertically challenged or if you are getting on in your years. E-Bikes are out of the question because of their weight and utes aren't exactly getting shorter!
Pros: Do not take up space in the wellside area.
Cons: Hard to load, adds wind noise, adds to the height of the vehicle (no post-ride maccas drive-thru!), normally limited at a 70kg capacity.
Tow Ball Bike Carrier
These are very cost-effective and easy to load but take a long time to get everything strapped on properly. If you like to do it cheap this is a good option, but you're almost gauranteed to scratch your frame in the process.
Pros: Low cost, easy loading height and can be used on any vehicle with a towbar.
Cons: Easy to scratch the bikes and vehicle while loading and from movement while driving, adds length to the vehicle making parking/ reversing difficult.
Tailgate Blankets
A cost-effective easy option but limit your Ute's ability to carry anything else. I.e. your wellside is no longer secure or weathertight.
Pros: Low cost, quick to load and can be used on any Ute brand.
Cons: Not secure, use up your wellside load capacity, easy to scratch the vehicle and the bikes.

Load-Lid with Bike Carrier
Adding Bike Carriers to your Utemster Load-Lid is hands down the best option. You can easily load them onto your vehicle, they are secure, do not limit your load carrying capacity and much more!
Pros: Unobstructed load capacity in the wellside, bikes do not stick too far out of the vehicle lines, can carry up to 4x bikes with a 200kg load rating, locking options are available to keep the bikes secure, easy and fast to load and unload - even when covered in mud!, easy to adjust to cater for different bike sizes.
Cons: The Load-Lid Can be heavy to open with bikes
Head to the below link to found out more. Happy Shredding!