Ratchet Straps
To suit Utemaster Centurion Canopy Cantilever Roof Rack

The Cantilever Rack is a seriously robust optional extra for the Aluminium Canopy with a 200kg load capacity. It allows you to easily transport materials to-and-from the job site with ease!
The Utemaster Ratchet Strap is designed to work specifically with this rack. It has a purpose-built fitting bracket that bolts into the hex-shaped cut out of the Cantilever Roof Rack making it easy to install.
This accessory is ideal for securing materials on the Cantilever Roof Rack.
Part Number:
Part #CANOPY-CANTILEVER-RATCHET
Includes two straps, mounting brackets and hooks.
PLEASE NOTE: This accessory is only compatible with Cantilever Racks made after July 2021
Features Include:
Easy to fit, remove and adjust along the rack

Corrosion-Resistant Stainless Steel

Can be used to secure low profile loads

Load Rating: 200kg (Same as Cantilever Roof Rack)

Dedicated Roof Rack Strap, you'll never forget it!

Retrofittable
This product is now available on the Ute Builder, so you can add it to your dream Ute Setup and order off our website.
No Drill Fitting
The Cantilever Ratchet Strap is attached to the rack using a simple wing bolts system. No drilling is required.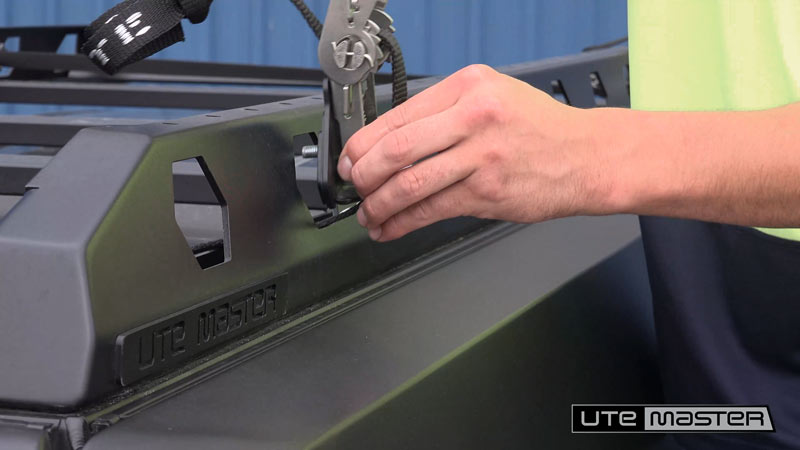 You may also be interested in...
Utemaster Cantilever Roof Rack to suit Centurion Canopy