2022 Ford Ranger Canopy
Utemaster Centurion Canopy™ - Coming Soon
"The most accessible Ute Canopy"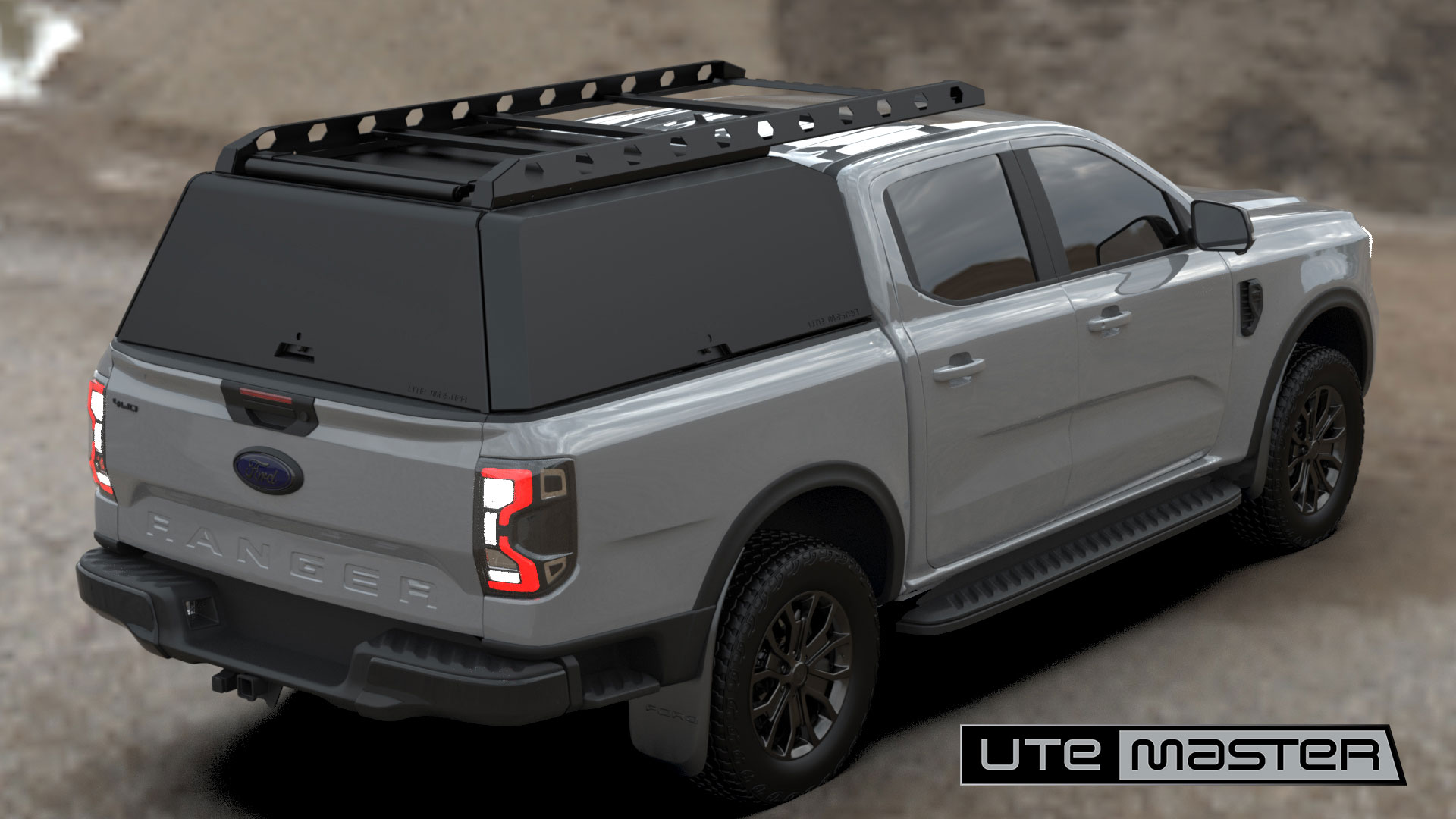 Suits 2022+ Ford Ranger Sport, Wildtrak, XLT and Raptor:
Disclaimer: The final design will vary from the render shown above.
Pricing TBC: Click here to register your interest and receive the latest updates.
Part #CANOPY-FRC2-CCMK3
Design Registered NZ 426186
What is the Utemaster Centurion Canopy?
Traditionally, ute canopies are constructed with fibreglass or ABS plastic. The Utemaster Centurion Canopy is constructed with Aluminium which gives it greater strength.
Because it is so strong, we can maximise access through full-width doors without compromising on the structural integrity of the canopy.
This product has been designed and manufactured in New Zealand at Utemaster's state of the art facility and focuses on three key features: Access, Strength & Security.
The most accessible canopy in the world
Finding it hard to reach your tools and equipment through small canopy windows?
Wasting time and feel frustrated when trying to access your gear?
The Utemaster Centurion Canopy features full-width doors that give you access to your gear the whole way down each side. There is no obstruction along the top edge of your wellside meaning you can easily reach over and pull your gear out through the side door opening.
Superior Weatherproofing
We were recently asked: "What are they like keeping the rain out when open? the worst part of my canopy is all the water tracks straight inside with wings open"
That's so frustrating! We know how many tradespeople and recreationists out there struggle with this. Not only does it damage your gear inside, but it also delays progress on a job site.
Check out this video of the Utemaster Aluminium Canopy being water-tested during the design/ development phase - as you can see the built-in rain channels send any water landing on the canopy away for the inside of your wellside.
Security
Losing your tools and equipment due to a break-in is not only lost money - this can also have an impact on the time and productivity of the job you are working on. Concealed security latches mean each door is locked on both sides, making it hard to pry open.
Optional Central Locking Accessory
The Load-Lid Central Locking kit allows you to lock your Ute Canopy with the factory Vehicle Remote. The Central Locking kit comes complete with a plug and play loom.
Please note: Your lid can be locked manually using the supplied key. The Central Locking loom is an optional upgrade accessory.
Dog Vent Kit
There's nothing a dog loves more than heading out for an adventure. We've designed a Dog Vent Kit for the Centurion Canopy so you can take your best friend with you, wherever you go!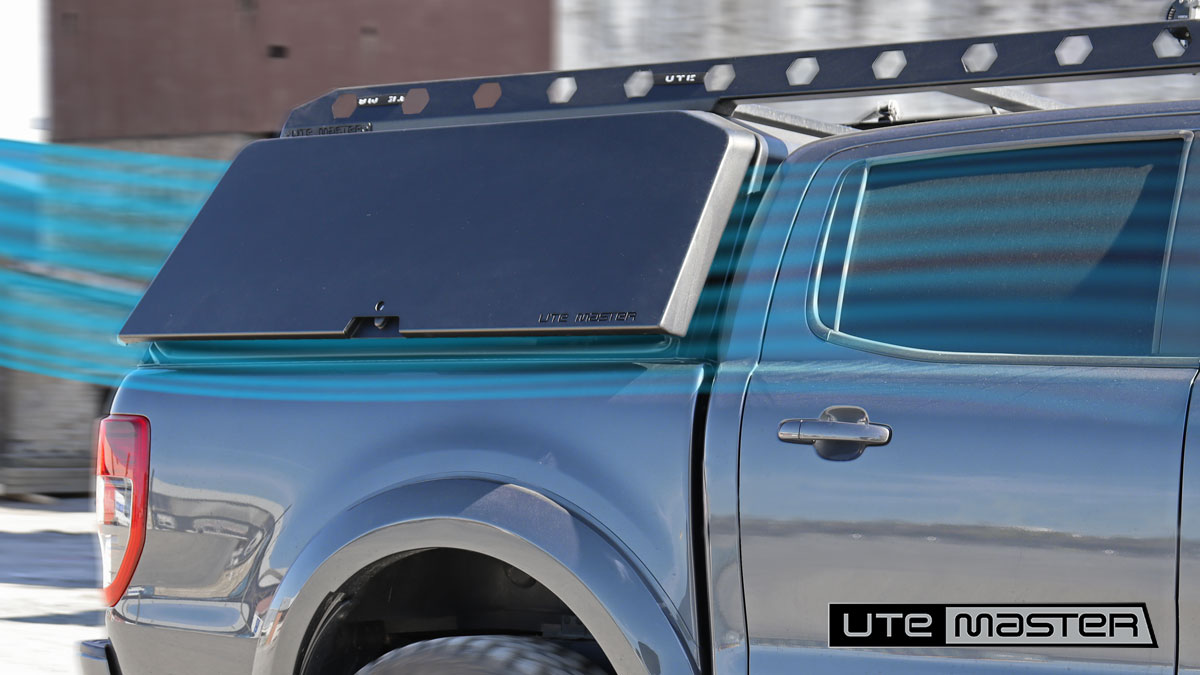 Heavy Duty Construction
The Aluminium construction allows this canopy to carry much heavier loads than you ever could on a fibreglass or ABS canopy.
This means you can stack it with all your gear to get stuff done and enjoy life's adventures without having to worry about it cracking or damaging your canopy.
Super Customisable
With a fibreglass or plastic canopy, it is hard to mount accessories such as spotlights, roof trays or anything that requires drilling into the fibreglass. This can also compromise the water-tightness and weaken the construction.
With the Utemaster Canopy being aluminium you can easily retro-fit any accessory to the body without having to worry about the structural integrity or weatherproofing and it allows you to fully customise your setup.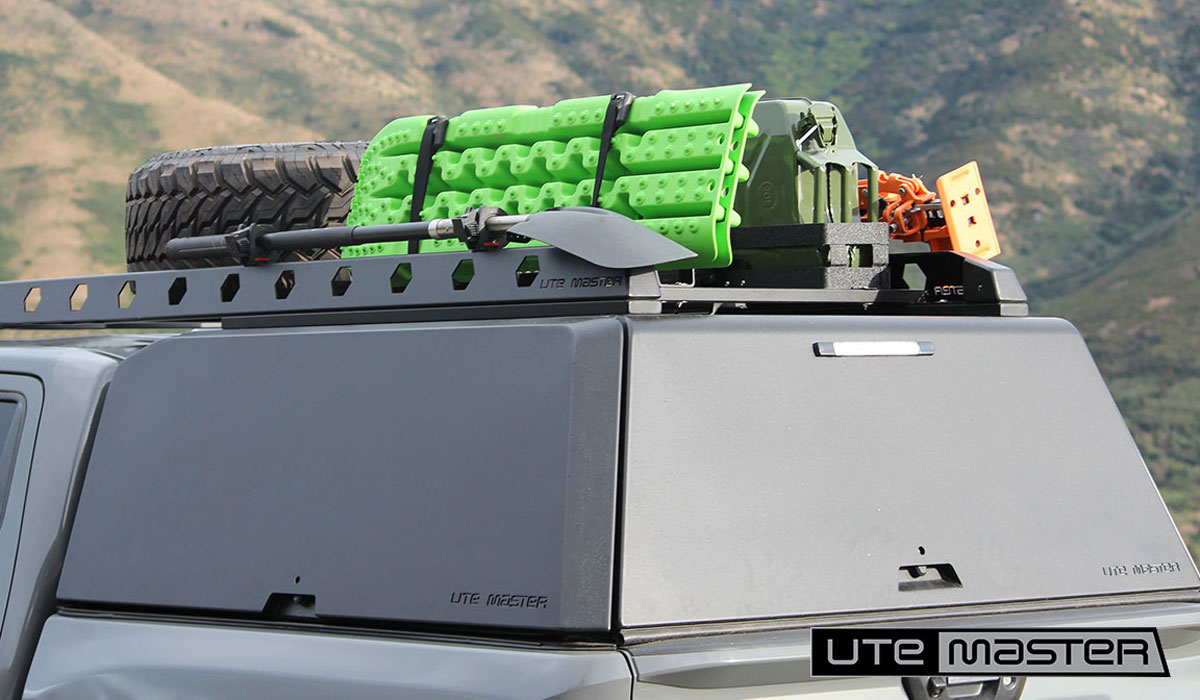 Optional Cantilever Rack
The Cantilever Rack is a seriously robust optional extra for the Aluminium Canopy with a 200kg load rating.
All utes are designed to flex in between the wellside and the cab. This can be problematic for a traditional roof rack setup that is mounted to both the cab and the canopy because it can cause damage while the flex occurs.
The Cantilever Roof Rack extends over the cab making it completely independent and eliminates the risk of damage to the cab! The Cantilever Rack is seriously useful and robust and is an optional extra for the Aluminium Canopy.
Optional Rear Ladder Roller
Struggling to lift a kayak, ladder or trade material onto the roof of your vehicle?
The Rear Ladder Roller is an optional accessory that fits between each side of the Cantilever Roof Rack.
This makes it easier to slide heavy objects onto the rack from the rear of the vehicle.
Part#CANTILEVER-ROLLER-CC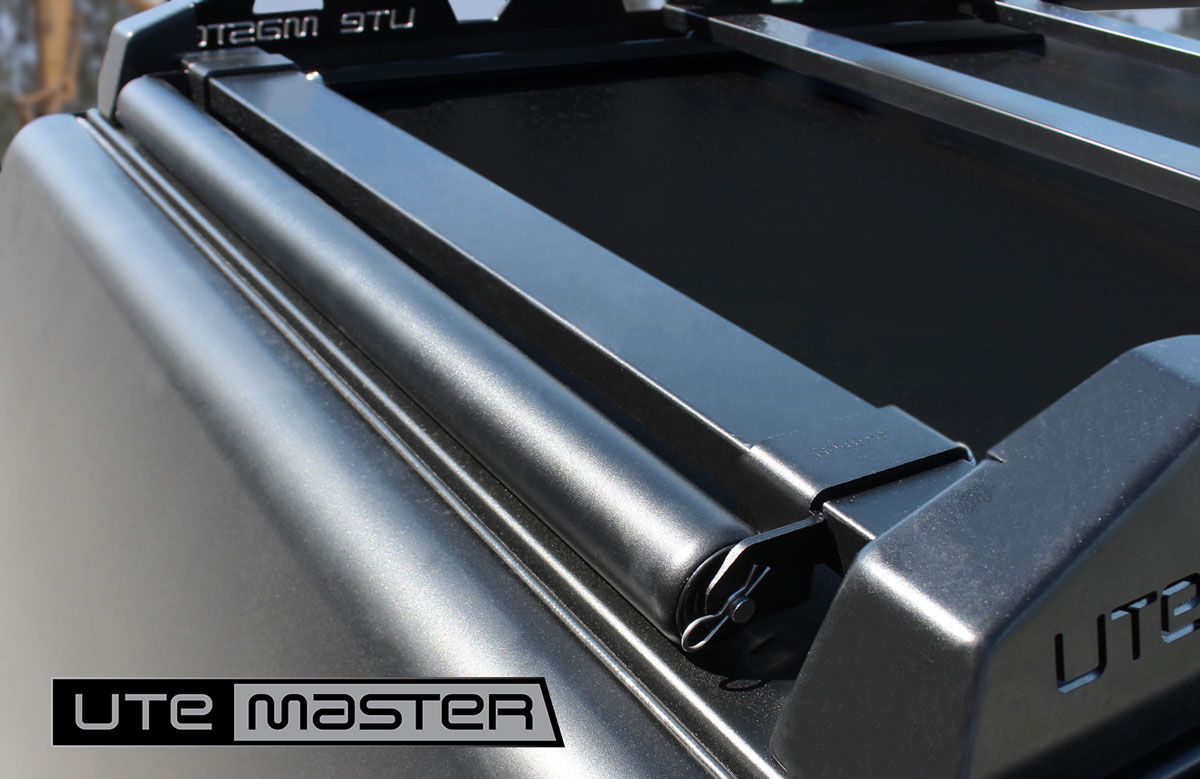 Colour Options
Powdercoating Black or White: The Aluminium Canopy comes standard in either Black or White powdercoat finish. The powder coating process is carried out in-house using our state of the art powder coating booth and provides a durable finish.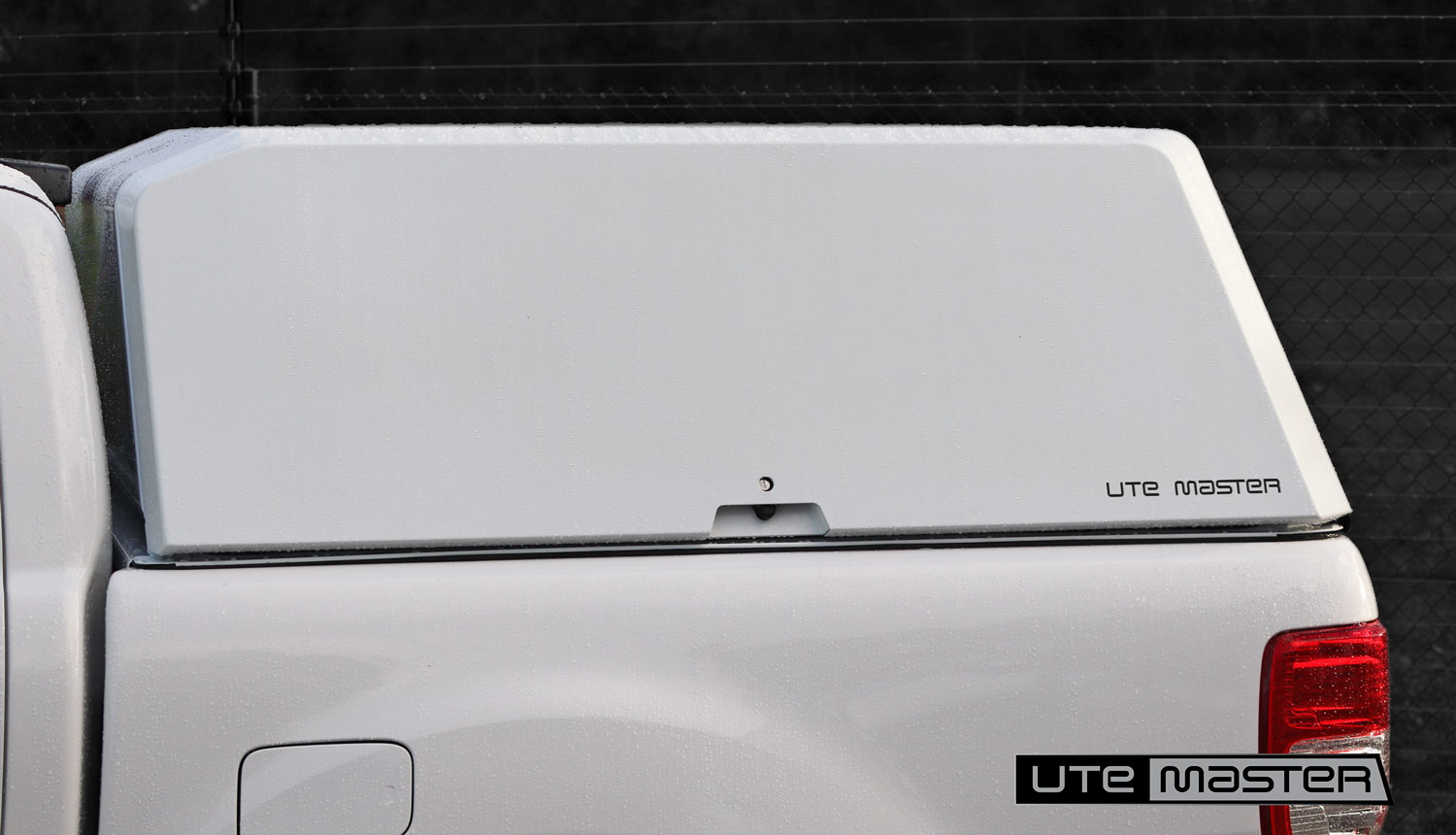 Company Branding
Because there is a large flat surface area on the sides and rear, and no glass the Aluminium Canopy is an ideal platform for signwriting to show off your company brand.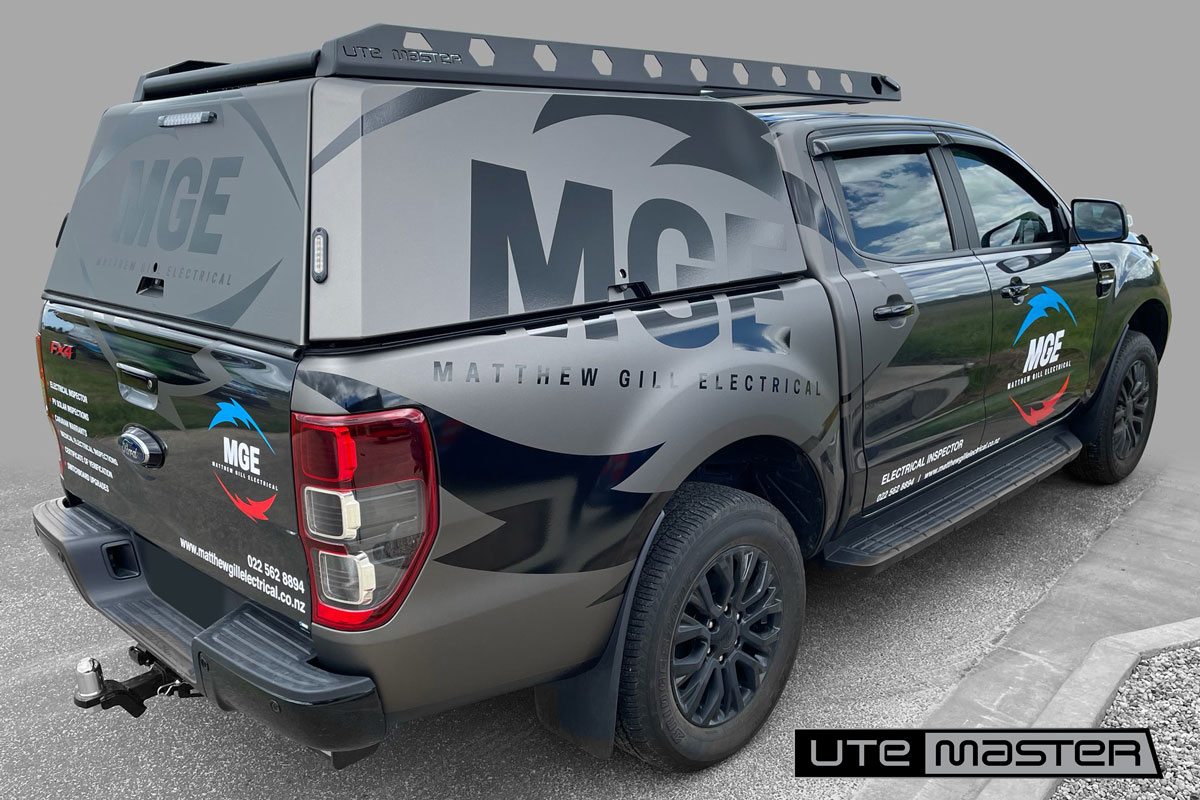 No permanent fixtures
Looking at upgrading your ute in the near future? Have you ever tried re-selling a ute after removing a fibreglass to ABS plastic Canopy?
The Centurion Aluminium Canopy is fixed to the wellside using existing factory mounting holes. This means no damage to the wellside of your ute when the canopy is removed.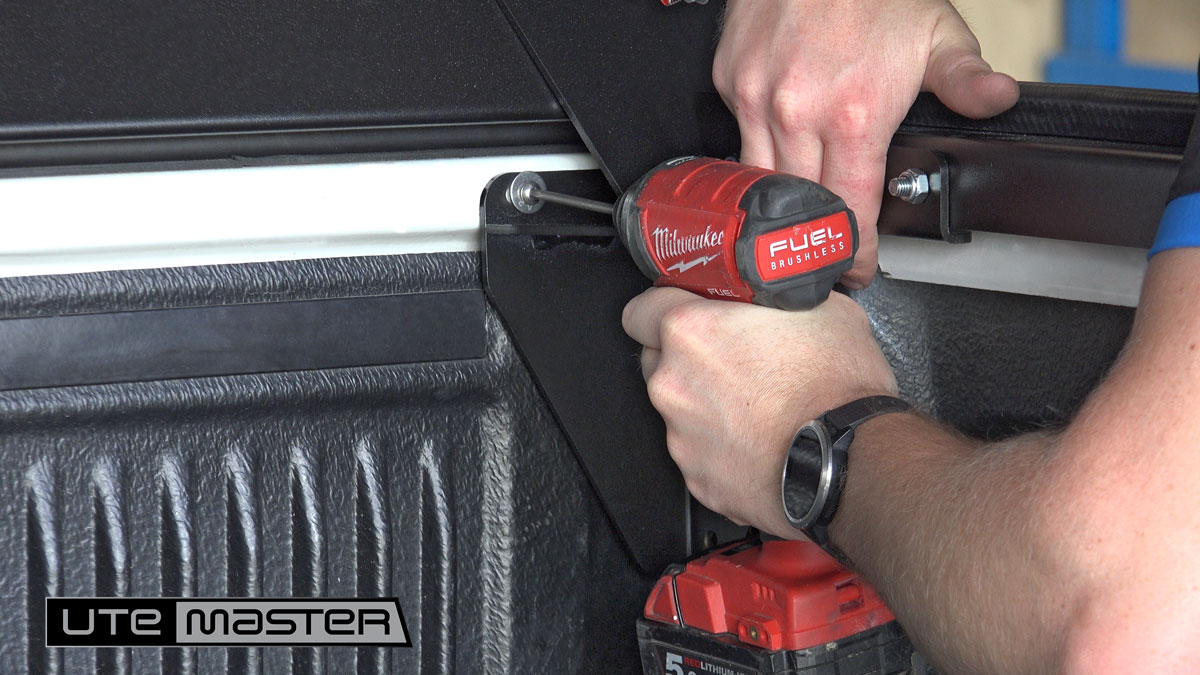 Centurion Aluminium Canopy Review
"This is by the far the best Canopy you are ever going to buy if you are an electrician or electrical apprentice"


Camping & Overlanding with a Roof Top Tent
The Centurion Canopy with Cantilever Roof Rack is ideal for mounting a Roof Top Tent because of it's 200kg load capacity. Hear what Darren had to say about his new camping setup.
Roof Top Tent Mounting
Register Your Interest
This product is now available on our Ute Builder, so you can start planning your Dream setup before you get the keys!
If you are buying a new 2022 Ford Ranger and are interested in a Load-Lid, Centurion Canopy or Flat Deck register your interest below: