Service Body Configurations
Single Cab
The Single Cab Service Body provides maximum storage and versitility for a wide range of loads.
Part #AL-24003F
Single Cab Service Body Dimensions:
External: 2400mm long x 1800mm wide x 1000mm high
Internal: 2340mm long x 1720mm wide x 887mm high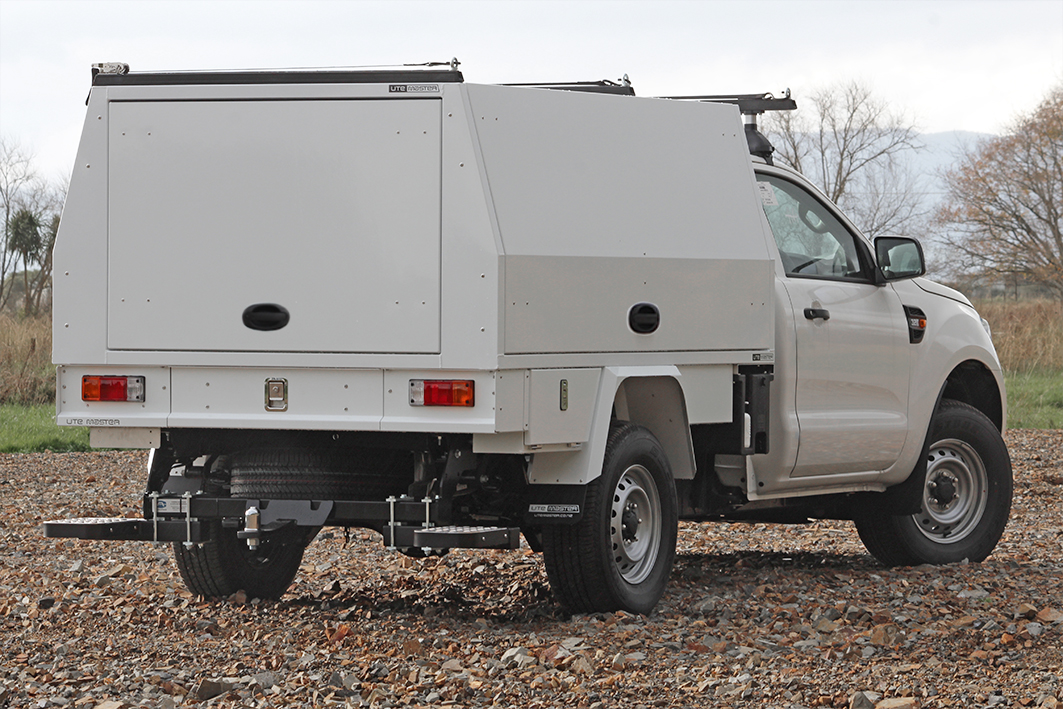 Extra Cab
The Extra Cab Service Body is the ultimate combination of in-cab storage and workspace at the rear - the rear seat is ideal for the occasional passenger and laptop/sensitive object storage.
Part #AL-21003F
Extra Cab Service Body Dimensions:
External: 2100mm long x 1800mm wide x 1000mm high
Internal: 2040mm long x 1720mm wide x 887mm high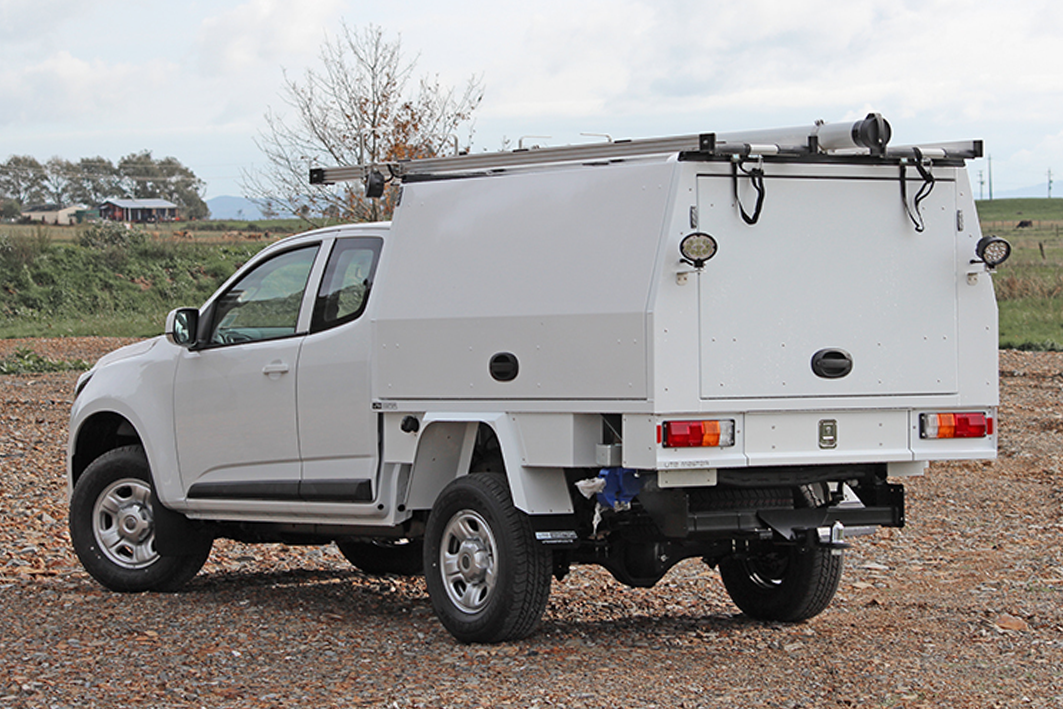 Double Cab
The Double Cab Service Body gives you a large amount of storage, while keeping the full two rows of seats for passengers
Part #AL-18003F
Double Cab Service Body Dimensions:
External: 1800mm long x 1800mm wide x 1000mm high
Internal: 1740mm long x 1720mm wide x 887mm high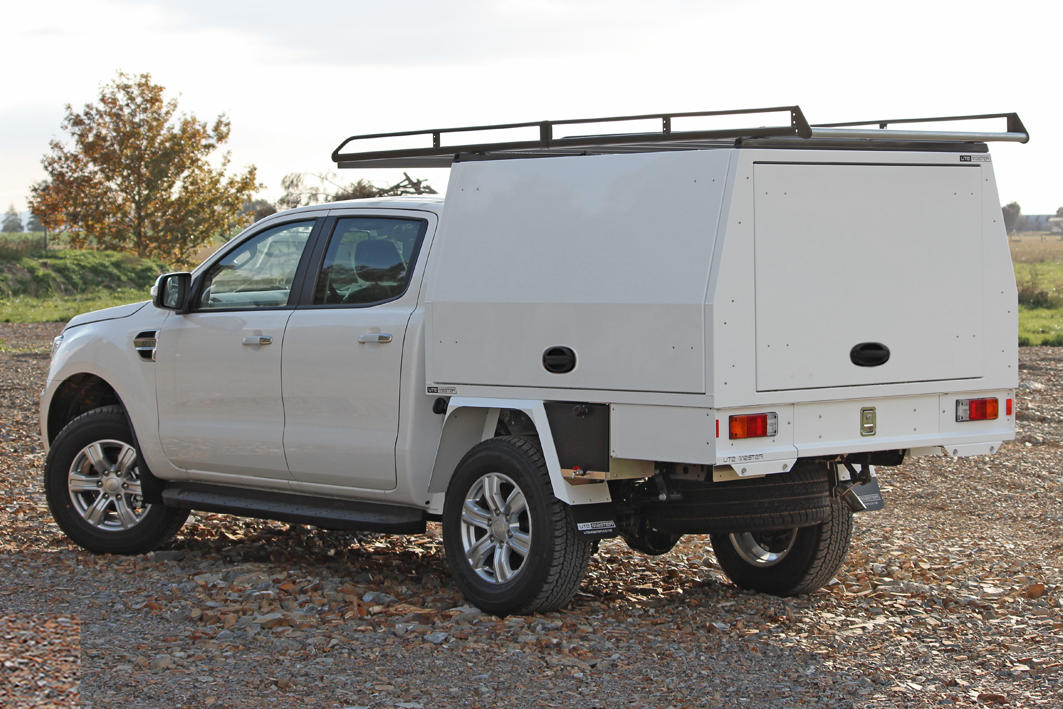 Utemaster specialises in creating commercial ute fitouts that guarantee a return on investment.
Hear what Peter from Firewatch Coromandel had to say about this Utemaster Service Body:
If you're a tradesman, auto/marine electrician or a fleet manager looking to maximise your capability to get more work done faster, a Service Body by Utemaster is the solution.
Hear what Tyrone from TPM Auto Electrical had to say about this Utemaster Service Body:
Van-like storage, in a ute.
A Van or Wellside Canopy setup used to be seen as the only solution for transporting your mobile workspace.
The Utemaster Service Body gives you van-like storage with all the benefits of a ute that Kiwis have come to love.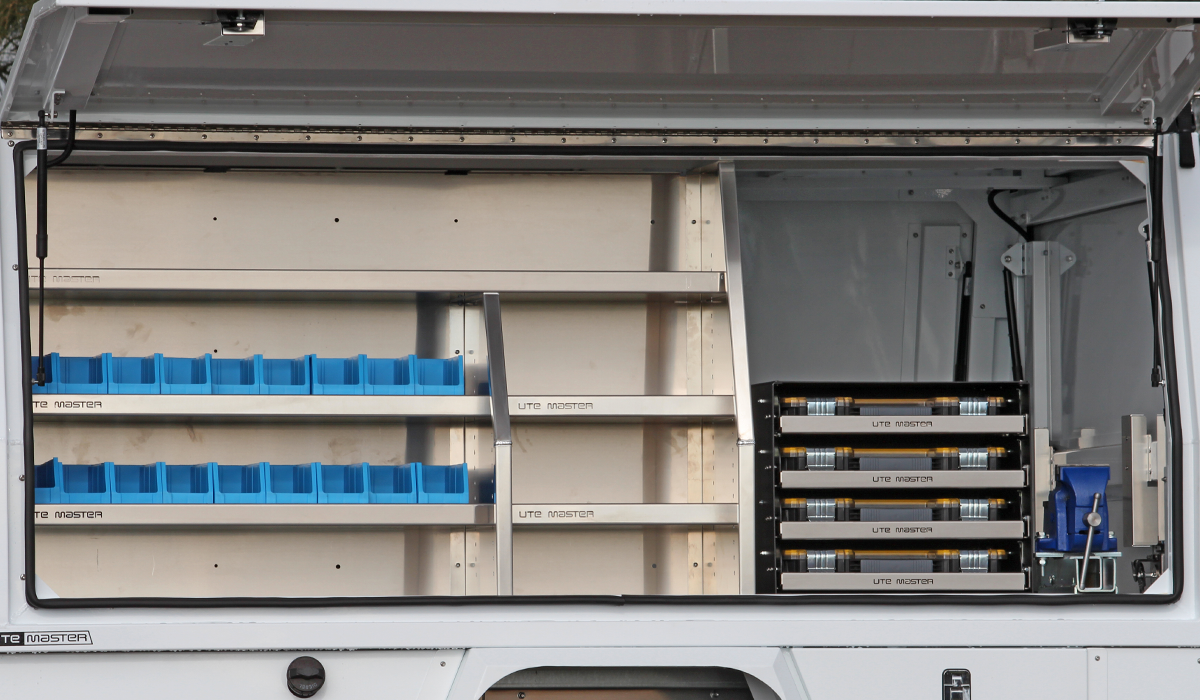 Take more gear, more places.
A Ute can go pretty much anywhere.
We help your service fleet get everything to where it needs to be, allowing you to complete the job, and ultimately earn revenue.
Take a look at the video below comparing the efficiency of a Utemaster Service Body with a Wellside Canopy.
Slam Locking System
Looking for a way to reduce time spent at the job site?
When you are on the job site you will open and close your Service Body doors multiple times throughout the day. It is essential that this process is fast and easy so time can be better spent working on the job than locking and unlocking your doors to access gear.
That is why we provide a slam locking system as standard with all of our Service Body fitouts. This handle makes it easier and faster to access your gear. Simply pull on the handle and the door will swing open. Slam it back down and it will snap into place.
Fill your ute to the max - INCREASED PAYLOAD.
Aluminium is used wherever possible to minimise weight and increase your payload.
In fact, the total weight of the complete Double Cab Service Body is 230kg - This is only approximately 14kg more than a wellside and fibreglass canopy.
To work out your payload we can give you an accurate estimate of the total fitout including accessories.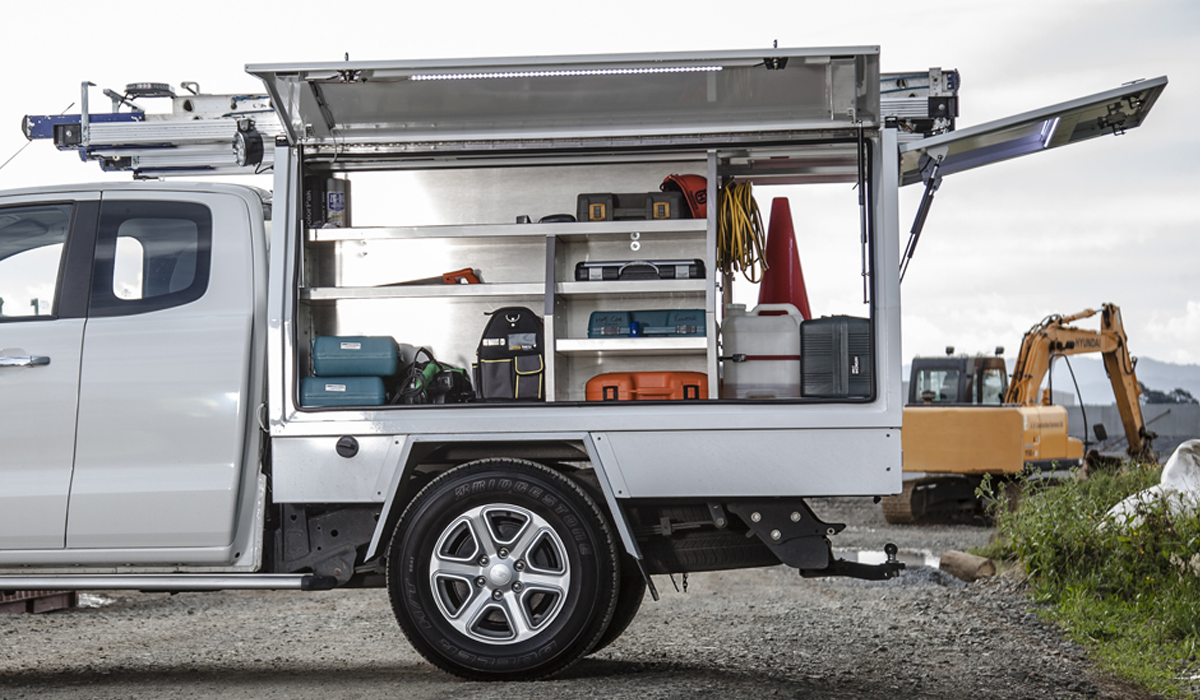 Keep your gear dry and free of dust.
The double edge seal runs around all four edges of each door, ensuring the protection of your equipment from water and dust, especially while driving.
The inbuilt rain channel and sealed hinge mean that when the door is open, rain is directed away from the door opening. The channel runs around the full perimeter of each door.
Be sheltered while you work.
Large 2.93m2 side doors are designed to shield you from the elements, providing essential on-site cover for when the weather turns against you.
It won't fit inside? Take it on top!
Ute's are designed to flex between the wellside and the cab, this can be problematic for roof racks that are mounted to the Service Body and the cab because they can damage the vehicle when you have a load secured.
As a solution, we've developed a cantilever roof rack designed to carry all the materials you could with a standard roof rack. This rack is cantilevered from the Service Body so when the flex occurs it will not damage the vehicle.
The Cantilever Roof Rack is rated to 200kg! So you can take all your gear to the job without needing to tow a trailer.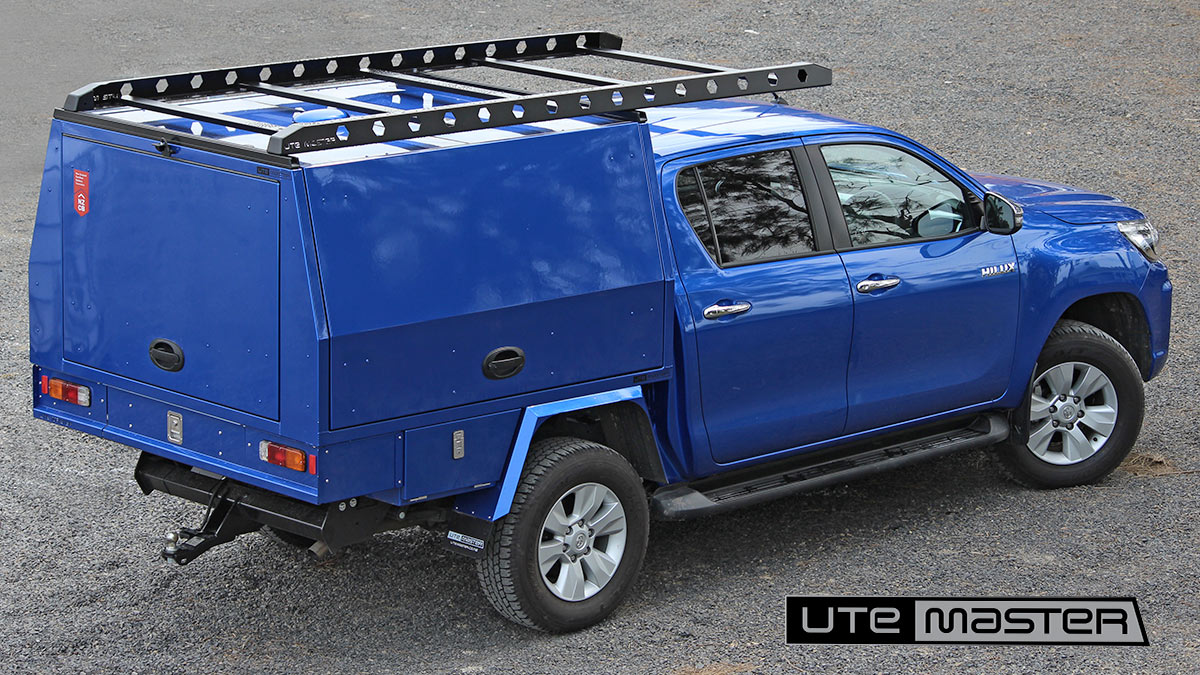 Is your company the same as the others in your field? Of course not! That's why we give you the flexibility to configure your Service Body to suit your unique needs.
Try our new Ute Builder and choose from a large range of shelving, drawers and accessories to add to your commercial fitout.
Or contact us for a quote