Understanding GVM, Payload, and Kerb Weight: A Guide For Ute Owners.
Posted on 05 October 2023 by Utemaster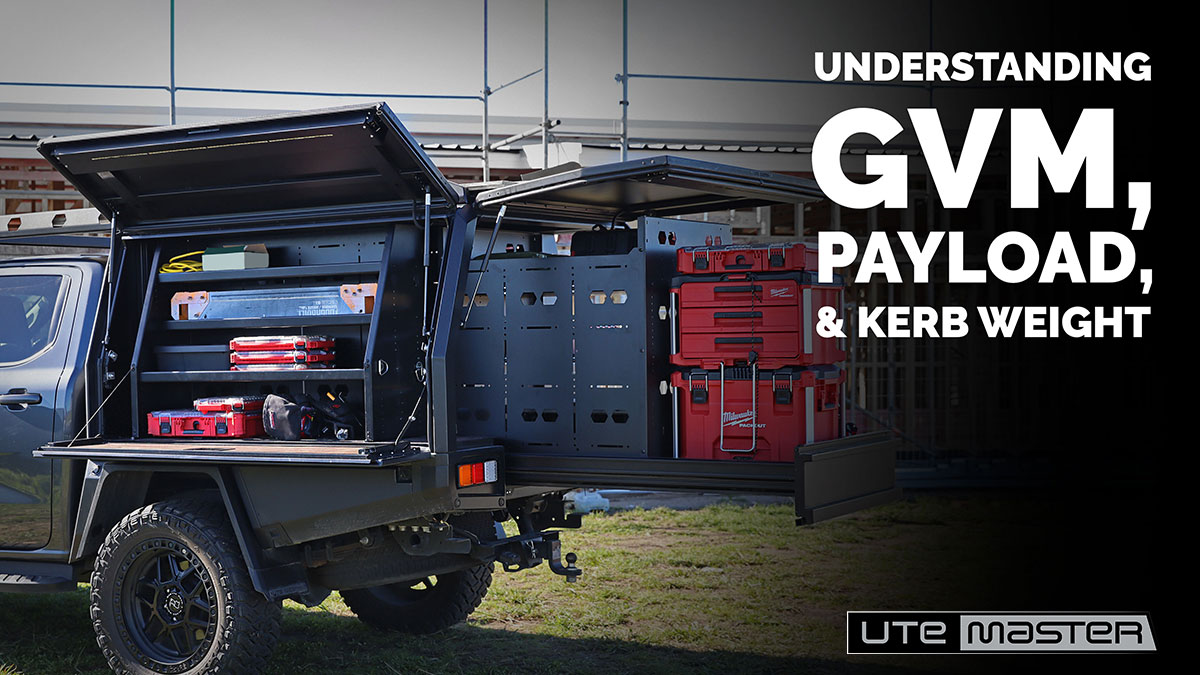 Whether you're a tradesperson hauling tools, or someone who enjoys weekends filled with 4x4 adventures - we know you want to put your ute through its paces.
In this article, we explain why Kerb Weight, Payload, and GVM are important to consider when loading up your vehicle to the max.
What is Kerb Weight?
The kerb weight is the weight of the vehicle from the factory. The kerb weight excludes the weight of passengers, cargo, and any aftermarket modifications or optional accessories. However it does include a full tank of gas and all necessary fluids to run the vehicle.
This is a crucial number to know for understanding how much weight your vehicle can handle beyond its own mass.
What is GVM?
Gross Vehicle Mass (G.V.M) is the maximum weight your ute is legally allowed to weigh in total. This is a combination of kerb weight, passengers, any form of accessory fitted to the vehicle, and all cargo that you can safely carry. Think of it as the maximum capacity for everything you load into your vehicle.
GVM exists to prevent vehicles from being overloaded beyond what they are engineered to safely handle during normal road usage. It represents the total weight the vehicle can carry safely without compromising its structural integrity, braking performance, overall balance and safety.
In short, Kerb Weight + Payload should not exceed GVM.
GVM will vary from vehicle to vehicle and is issued by the manufacturer of the vehicle. If you are unsure of what your GVM is you should ask your dealer.
What is Payload?
Payload is another word for load capacity and is a simple calculation of GVM - Kerb Weight = your vehicle's Payload.
Payload refers to the weight that a vehicle can carry on top of its kerb weight without exceeding the GVM.
Essentially, it represents the maximum weight of passengers, cargo, equipment, and after-market accessories that can be safely loaded onto the vehicle.
Understanding and keeping within your utes payload limit is critical for safety and optimum vehicle performance as well as keeping your vehicle road legal.
What's the difference between GVM and Kerb Weight?
The main difference between GVM and Kerb Weight lies in the inclusion of passengers, cargo, and additional accessories.
The Kerb Weight of a vehicle is a baseline number that is often used for helping calculate hauling ability, whereas the GVM is a weight limit that includes the Kerb Weight.
What's the difference between Kerb Weight and Payload?
Kerb weight represents the vehicle's weight without any extra items, while Payload refers to the weight that can be added on top of the Kerb Weight.
With your Kerb Weight and GVM, you can work out your Payload with the following simple sum:
GVM – Kerb Weight = Payload.
What's the difference between GVM and Payload?
These two terms both refer to the hauling capabilities of a vehicle.
GVM represents the vehicle's maximum weight, including its own weight and additional loads. Payload, on the other hand, specifically refers to the weight that can be added to the vehicle on top of its Kerb Weight, without exceeding the GVM.
With a simple sum of Kerb Weight + Payload = GVM, this will allow you to find out whether you are exceeding your GVM.
GVM Upgrades
So what happens if I need to carry more gear than what my Payload allows? Is it possible to increase my vehicle's GVM?
Yes, there are many companies that manufacture a GVM upgrade kit which involves new and upgraded components to the vehicle's core functions like suspension or springs.
Once a GVM upgrade has been performed(including certification if required) your vehicle will be legally able to operate a higher GVM. This means you will have more payload. For example: your Payload could increase from 1200kg to 1500kg which allows you to carry an extra 300kgs of gear.
As your desired GVM goes up so does the demands on other vehicle components, and you may need to consider better braking systems or heavier-rated wheels to ensure that your ute meets the safety standards and is fit to drive with heavier loads.
There are a range of GVM upgrade kits you can buy as a kit. Some common supplies of GVM upgrade kits are listed below:
- Peddlers
- Ironman
Please note: All GVM upgrades should be carried out by a GVM upgrade specialist.
Product Weights
With GVM and Payload in mind, the weight of a product is important, but it's not the only thing that should be considered. For example, let's consider the figure of a rugby player and how this can affect their ability to play.
If a rugby player is too lean they may have the ability to run fast and be mobile but often this will result in an injury from the heavy contact. Whereas for players who are larger, the contact may not affect them as much, but they will struggle with mobility around the field. However, when a player is in the middle of these two extremes they have the ability to be a quality player with great mobility and still have the ability to handle the contact and physicality of the game.
This example relates to ute accessories as well. Often when a service body is light it may not affect your GVM as much but this often means the materials used are cheap and flimsy, resulting in a poor-quality service body that can easily be damaged or wear out. An over-engineered heavy Service Body may be more durable but will limit the amount of tools, materials, or adventure gear you can load into your ute.
The Utemaster TrailCore has been constructed from the best quality Aluminium parts which means positions it in the middle of the market in terms of its weight. It is the ideal balance of a high-quality, heavy-duty product that still gives you the ability to carry all the gear you need!
Summary
As we have mentioned above, heavy after-market accessories can impact your payload and limit your load-carrying capacity and conversely, extremely lightweight options may not last the distance.
Utemaster products are manufactured using aluminium which is lightweight and strong. This means you'll be able to get the most out of your setup and take more gear with you!
To check our range of products, head to the link below: